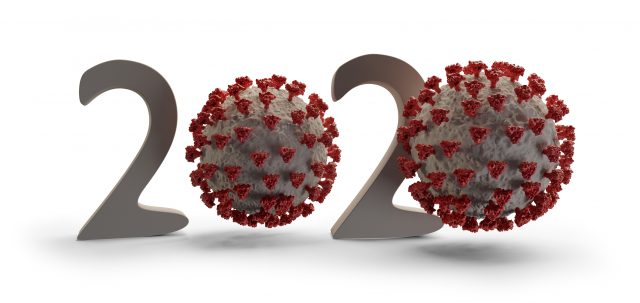 Last year will widely go down in history as being a year that most people want to forget. Even before the coronavirus pandemic hit in Europe in March, record-breaking wildfires raged in the western United States and hurricanes battered the Gulf Coast.
Later in the year, the killing of George Floyd in Minneapolis sparked demonstrations worldwide and an ongoing movement seeking to dismantle institutional racism. After losing the 2020 presidential election, Donald Trump sought to subvert democracy by making a series of unfounded claims of electoral fraud.
In the UK, Britain officially left the European Union at the end of January, Sir Keir Starmer was elected as leader of the Labour Party, the House of Commons went "virtual" for the first time in its history, the Pound Sterling fell to its lowest level since 1985 and the FTSE suffered its largest intraday fall since 2008.
Covid-19 to date has killed 1.8 million people worldwide and has been responsible for unprecedented social restrictions, the closure of schools and offices and the entering into administration of retail giants like Debenhams, Arcadia Group and Oasis/Warehouse.
Contractors fall through the cracks
In March, the Conservative government took the unprecedented step of paying a large proportion of the population not to go to work, through the Coronavirus Job Retention Scheme (CJRS), or "furlough" scheme. Some self-employed workers were also given grants under the Self-Employment Income Support Scheme (SEISS) if their business was affected by the covid-19 pandemic.
However, whilst certain employees received £2,500 per month, many contractors, small business owners and other self-employed individuals received absolutely zero support from HM Treasury.
An estimated seven hundred thousand limited company owner-directors who had been remunerating themselves primarily in dividends were left with little or no support under the coronavirus support schemes, with many not even eligible for Universal Credit because they either had savings or their partner receives an income. A further 1.6 million self-employed individuals were automatically excluded from the SEISS by the eligibility criteria. Thousands have seen their savings entirely eaten away by the costs of living through the pandemic with severely reduced revenue.
Three hundred thousand people signed an online petition calling on chancellor of the exchequer Rishi Sunak to "do the right thing" and provide grants to small company owners, but in July Mr Sunak confirmed to the Treasury Select Committee that the government would not be extending coronavirus support, saying "there would not now be the opportunity or intention to introduce new schemes" and "it's not as if there is no support available".
More recently, following the announcement that the furlough scheme was to be extended until at least March and that two more SEISS grants would be made available over the same period, calls by the Federation of Small Businesses (FSB), the Association of Chartered Certified Accountants (ACCA), campaign group Forgotten Limited and former senior adviser to the Office of Tax Simplification Rebecca Seeley Harris to introduce a new "director's income support scheme" similarly fell on deaf ears.
IR35 reform / Off-Payroll
Contractors started the year with reforms to IR35, officially known as the Off-Payroll rules, planned to be extended to the private sector in April. The rules would make the hirers of contractors responsible for the notoriously difficult process of assessing the IR35 status of the freelancers working for them.
In the lead up to the implementation date, a number of major hirers of contractors gave a glimpse of how the new rules may play out in practice: they simply refused to hire contractors who were supplying their services through their own limited companies, effectively forcing them to use umbrella companies, and thus avoiding the laborious process of making IR35 determinations.
Other end-clients adopted a more dubious "blanket" policy of classifying all of their contractors as "inside IR35", regardless of the actual terms and conditions of their engagements. This practice is not compliant with the legislation, but the only recourse contractors have is a dispute process led by the client itself, which has been subject to criticism for the obvious conflict of interest that it generates.
Companies that stopped using limited company contractors included major players such as HSBC, Barclays, Vodafone, GlaxoSmithKline and BAE Systems.
In the end, the extension of Off-Payroll to the private sector was postponed for twelve months just under three weeks before the April 6 implementation date due to the developing coronavirus pandemic. However, by this point, the damage was done. Limited company contractors were already perceived as too great a risk by many major hirers across various sectors.
By September, a survey of recruiters indicated that only a third of end-clients had reversed their Off-Payroll mitigation policies.
Campaigners continue to lobby government to shelve the planned extension of Off-Payroll to the private sector, arguing that the UK's highly-skilled flexible labour market benefits the economy greatly and the new rules could decimate it. However, this now seems highly unlikely as the rules were added to last year's Finance Bill, which received royal assent last July.
Home Working
The coronavirus pandemic caused an abrupt shift to remote working and online commerce that few business strategists could have foreseen. Sectors such as banking, in which home working was relatively rare pre-pandemic, had to accelerate their digital transformation to provide staff with the infrastructure to work remotely. Now major firms are preparing for twenty per cent of their workforces to remain at home, pairing infrastructure investments with efforts to secure employees' laptops and devices and formalise work-at-home policies.
"We have seen over the last few months a massive shift in how firms operate, and how people operate. We are all looking through glass: using digital channels to work from home, bank from home, shop from home, socially interact from home," observes Mike Dargan, chief information officer at Zurich-based investment bank UBS. The company's investment in technology – approximately $3.5 billion a year – has armed his team with the capabilities to make the shift. "The way we've operated, we could have basically everyone working from home – more than 95 per cent of our people are enabled to work remotely."
UBS had up to three million calls on communication service Skype a week and at one point a 70 per cent increase in customer engagement onboarding through its mobile app.
Self-employed decline
At the same time, the UK's self-employed workforce has been shrinking month-on-month and freelancers' earnings are at the second lowest level on record. There are now just 4.5 million self-employed individuals in the UK, according to the latest ONS figures, down from 5 million at the end of 2019. Andy Chamberlain, director of policy at the Association of Independent Professionals and the Self-Employed (IPSE), called 2020 a "year of relentless decline" for the self-employed sector.
News that the UK's vaccination programme has now begun in earnest brings some hope, but the first few weeks of 2021 are likely to be equally tough for the freelance sector.
4th January 2021.