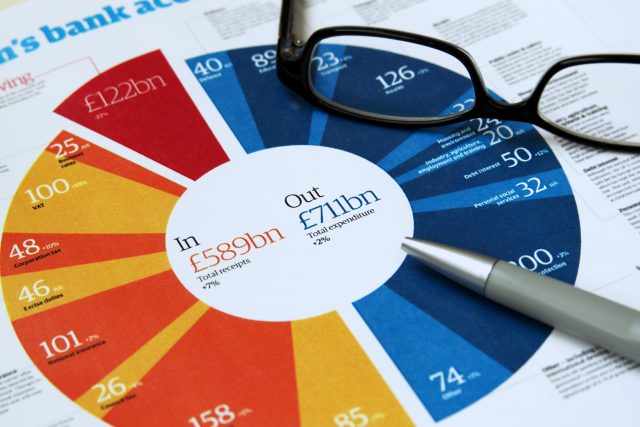 The UK government deficit is set to hit a peacetime record in 2020-21, as official figures showed that the national debt has reached its highest level since 1960 due to coronavirus-related borrowing.
Figures published by the Office for National Statistics (ONS) on Friday revealed that the government borrowed £22.3 billion in October, bringing the budget deficit to £260.8 billion from April to October, the highest figure since comparable records began in 1984.
The national debt has risen to £2.08 trillion. At 100.8 per cent of GDP, it has not been higher since 1960 when the UK was paying off its war debt. Due to continued coronavirus restrictions, including a second national lockdown in England, economists expect borrowing for the year to hit nearly £400 billion, the largest as a share of the economy since the Second World War and double the level of borrowing at its peak after the 2007-08 financial crisis.
The figures were released as news surfaced that public sector wages were likely to be frozen in Rishi Sunak's spending review next Wednesday. The overseas aid budget is also likely to be cut from 0.7 per cent of GDP to 0.5 per cent, reducing it by some £4 billion.
Borrowing has increased because tax revenue has fallen sharply: tax receipts in the first seven months of 2020 fell by £38.3 billion, a 9.7 per cent drop. At the same time spending increased by 28.5 per cent to £123.5 billion, a figure that includes the various coronavirus support packages for workers and businesses, and the NHS Test & Trace project.
"We've provided over £200 billion of support to protect the economy, lives and livelihoods from the significant and far reaching impacts of coronavirus," said Sunak. "This is the responsible thing to do, but it's also clear that over time it's right we ensure the public finances are put on a sustainable path."
Pay deals for 2021 at inflation or below will be given to most of the 5.5 million state workers whose salaries are set by the government's pay review bodies — including police, teachers, and civil servants. NHS frontline staff will however be excluded from the pay freeze because of their work during the Covid-19 pandemic.
The chancellor is facing some difficult decisions. Although the spending review is now limited to one year, the chancellor could decide to extend public sector pay curbs beyond 2021-22. A report by the Centre for Policy Studies, a think-tank, calculated that a three-year pay freeze excluding health could save £7.7 billion annually by the end of the period. There are also rumours that capital gains tax may be reformed next year.
The prime minister announced a generous increase in military spending in the Commons on Thursday, telling MPs that he wanted Britain to become Europe's leading naval power.
Union leaders have however expressed anger at the idea of further curbs for public sector workers, who have already endured real-terms pay cuts for most of the past decade.
Frances O'Grady, general secretary of the TUC, said: "Freezing their pay is no way to reward key workers for their service. Unions will fight for the proper pay rise they have earned. Working people must not bear the burden of the crisis."
Dave Prentis, the general secretary of Unison, said key workers across the public sector remained at the heart of the fight against covid-19. "The government must do what's right next week and announce the wage rise staff have more than earned. Anything less risks destroying morale when the entire country is counting on them," he said.
Mike Clancy, general secretary of the Prospect union, said another pay freeze would be "economically illiterate" when the economy needed an injection of consumer demand.
"After a decade of pay austerity in the public sector which has seen pay increases lag behind inflation and the private sector, a further pay freeze across the public sector will be seen as an insult and have a devastating impact," he said.
Although the pandemic has hammered the public finances, there were some encouraging signs last month. The ONS also released retail sales figures for October, which showed spending holding up better than expected and suggested that households are more resilient than thought.
Official retail sales figures rose by 1.2 per cent in October.  Compared with last year they were 5.8 per cent higher, better than economists' forecast for growth to slow to 4.2 per cent.
20th November 2020.