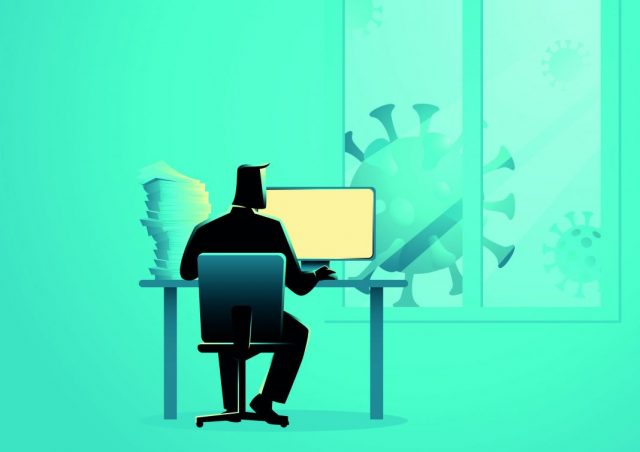 More than half of workers are still unenthusiastic about returning to the office due to concerns over coronavirus despite employers spending millions of pounds each month to make workplaces "covid secure", according to a major new survey.
The study of 5,000 UK workers and 2,000 employers found that fifty-four per cent of workers were still reluctant to return to work over fears that they may contract the virus. The poll was conducted by British healthcare technology firm Huma.
Employers, however, are collectively spending £674 million per month preparing workplaces for the return of staff, according to the research, including on PPE procurement, new hygiene protocols and altering office layouts to accommodate social distancing, equivalent to a spend of £58.55 per month per employee.
Of the employees who have already returned to the workplace, fifty-seven per cent were not confident about the safety measures put in place, and twenty-nine per cent of those who have not returned lacked confidence in their employer's ability to keep them safe during the pandemic.
Suggesting that the lack of confidence could be being driven by poor communication, the study found that of the employees polled, only twenty-four per cent felt fully informed of the new safety protocols in their workplace, and only twenty-four per cent of businesses said they were prioritising communicating safety measures to their employees.
A mere twenty per cent of employers felt suitably informed themselves about what policies and procedures they needed to implement to make their workplaces covid secure.
Gary Cookson, director of Epic HR, said that the lack of confidence among workers could be more due to organisational culture than specific health and safety arrangements: "The low percentage of employees feeling informed matches entirely the low percentage of employers that have prioritised informing employees," he said. "That smacks of rushing things and forgetting the important things like doing what you can to keep your people safe from harm. There's little excuse for that."
HR consultant Gemma Bullivant said the return to the workplace was creating "one of the most complex [health and safety] challenges" ever faced, and that this was placing additional pressure on the HR profession: "HR is suddenly expected to be the expert in [health and safety] – risk assessments, establishing guidelines, working with facilities teams and, perhaps most challenging of all, dealing with the huge range of personal circumstances, fears and concerns each employee may be experiencing," she said.
"Communication is absolutely critical, and the companies that are managing this well have prioritised and invested in employee comms to build and drive engagement and trust."
The Huma poll found that commuting was one of the biggest concerns employees held about returning to the work place, with twenty-nine per cent of respondents citing it as a reason to continue working from home. The second biggest concern was the risk of infection from colleagues (twenty-four per cent) and from attending meetings (twenty-three per cent). The risks that the workplace itself posed was of least concern, with just nineteen per cent of respondents indicating it was a source of apprehension.
In respect of making staff feel safer at the workplace, seventy per cent of the 2,000 businesses polled said they would be willing to pay for a covid-19 test if an employee requested one, and sixty-seven per cent of employees would be willing to undertake daily symptom checks with their employer.
Eighty-eight per cent of companies were comfortable with monitoring and tracking staff symptoms, and seventy-one per cent of employees would be comfortable with their employers doing so.
Cookson said HR had an opportunity to "come into its own" by helping organisations deal with the influx of challenges: "Organisations are changing and people are reacting in typical ways. HR professionals can help organisations plan this out, involve people from the outset, support their emotional needs and help to reward and embed new behaviours that lead to increased safety in the workplace."
In the survey more than two in five businesses (forty-five per cent) said they would be ready to welcome staff back to the office before the end of August, while a fifth (nineteen per cent) said that they would not be ready until the first half of 2021.
28th August 2020.